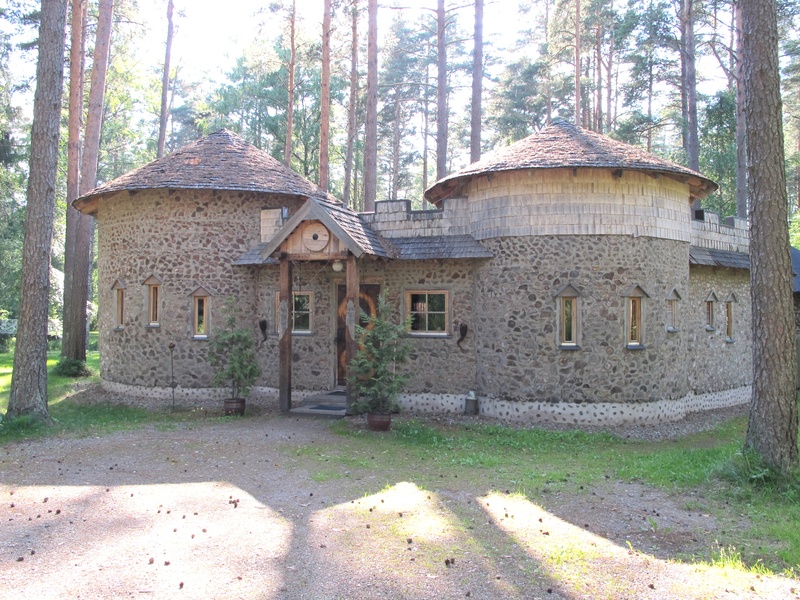 Viikinkisauna
Viikinkisauna
A cache by : Zone
Found 10 times (last time was 02/07/2017 (d/m/y) )
Moni on saattanut ajaa tämänkin ohi tietämättään. Tässäpä yksi kuvauskohde jalottelun lomassa:
Urpolan kartanon maaseutumatkailutilalla Humppilassa on tilan isännän, luomuviljelijä ja ekorakentaja Mikko Kylämarkulan ja Ilkka Lempisen pölkkysavitekniikalla rakentama savusauna, Viikinkisauna.
Mikko Kylämarkuila osallistui Loimaalla 90-luvun lopulla luonnonmukaisen rakentamisen kurssiin ja näki muutaman pölkkysavitekniikalla rakennetun talon ja navetan Suomessa ja Tanskassa.
Kun tilalle tarvittiin 15-20 hengen sauna- ja illanviettotilat hän päätti muurata pölkkysavirakennuksia, hyödyntää kaarevien seinärakenteiden mahdollisuuden ja sai näin rakennukselle kiinnostavan julkisivun. Vesikatot on tehty haapapäreestä ja loivemmassa osassa on aluskatteena kattohuopa. Seinä on muurattu 30 cm pituisista kuivista puupölkyistä ja savilaastista.
ViikinkiSauna (Open in a new window.)
Condition for logging the find
Kätkön voit merkitä löydetyksi, kunhan käyt paikan päällä.
Published :
27/07/2014

(d/m/y)

11:02
Please note that it is possible that the information on this page is not accurate or not up to date. Rules or regulations that are not mentioned here may apply when visiting the place or the conditions on the location may have changed.