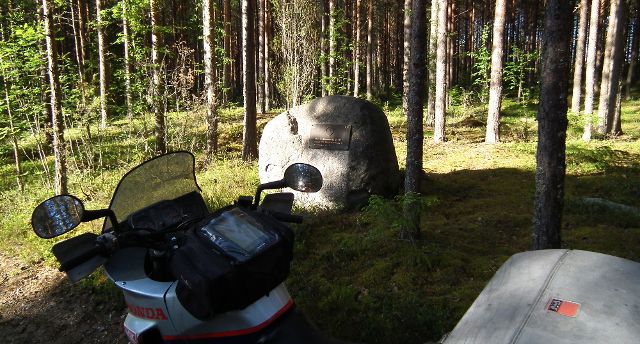 Route 66 - Muistolaatta männiköstä
Tauon paikka kuuskutosen vieressä
A cache by : SaltyCaptain
Found 10 times (last time was 22/07/2018 (d/m/y) )
Address : Visuvedentie 151, Ruovesi, Finland Google maps
Kuuskutosen käydessä tylsäksi tästä löytyy oiva verryttelypaikka. Sileärenkaisemmilla pyörillä ajaville tarjolla aitoja kauhunhetkiä pehmeän hiekan parissa - sopii silti kaikille pyörille, vain 750 m metsätietä suuntaansa kantatieltä. Löysin tämän aikanaan mopolla metsäpolkuja kolutessa, eipä ole vielä vastaavaa muistolaattaa vastaan tullut. Mitä tässä muistetaan? Selviää paikan päällä.

Etelästä tullessa metsätie alkaa suunnilleen kohdasta Visuvedentie 151 mutta vaihtoehtoisia reittejä löytyy useita.
You must answer this question to log your find :
Minä vuonna laatta on asetettu paikalleen?
Published :
12/06/2014

(d/m/y)

12:27
Please note that it is possible that the information on this page is not accurate or not up to date. Rules or regulations that are not mentioned here may apply when visiting the place or the conditions on the location may have changed.